Economics is haunted by more fallacies than any other study known to man.
HENRY HAZLITT
Economics, like most of the social sciences, is still in a somewhat rudimentary state. There is little agreement among economists over general principles, and even less agreement concerning economic policy. Yet a knowledge of economics, even if it is somewhat vague and inexact, can be useful in everyday life, especially in regards to making business and investment decisions. The trouble is, given all the dissension within the discipline of economics, how is the layman suppose to distinguish between sound theories and unsound theories?
Our recommendations are based on the assumption that most economists have a very distorted view of what is going on in the real world. Academic economics, as it has been practiced for nearly 100 years, has adopted several very dubious assumptions among its main premises, the most important of which is the view that economics, in order to be "scientific," must be quantifiable, which in practice means, statistical and mathematical. This is an error. It has done untold harm to the study of economics during the twentieth century. Nowadays, most economists know more about mathematics than they do about the economy. There is only one school of economics that avoids most of the errors of mathematical and statistical economics: this is the Austrian school of economics, whose most prominent exponents have been Ludwig von Mises and Friedrich Hayek. The Austrians, to be sure, are hardly above reproach. Mises in particular tended to be somewhat one-sided in his analysis of economic reality. His conviction that all economic action was "rational" blinded him to the influence of sentiment on human behavior. The complexity of economic life also sometimes escaped Mises' scrutiny. It is unfortunate that most of Mises' successors within the Austrian

school have followed him most faithfully where he is most in error. The best place to start for beginners is Henry Hazlitt's Economics in One Lesson, a book specially written for those who know nothing of economics. Hazlitt covers all the main issues of economics, from inflation and rent control to corporate bailouts and tariffs. He illustrates his arguments by relating them to public issues, which makes it easier to grasp the principles he expounds. Although his analysis tends to be somewhat simplistic and even superficial at times, this would appear to be unavoidable in a book for beginners.
Another excellent book for beginners is Faustino Ballvé's Essentials of Economics. Ballvé is more theoretical than Hazlitt. His book is organized like a conventional economic treatise. In ten brief chapters, Ballvé discusses the market, the role of the entrepreneur, money and credit, capital and labor, economic crises and unemployment, international trade, nationalism and socialism, the controlled economy, and what economics is and is not about. There is no better introduction to the basic doctrines of Austrian economics.
Critics of Capitalism. Austrian economics is often criticized for its adulation of free enterprise and laissez-faire. This criticism is not entirely unjust. The Austrian school can sometimes seem to be nothing more than mere apologetics for untrammeled capitalism. Those interested in another point of view might try Robert Heilbroner's and Lester Thurow's Economics Explained, which provides a basic introduction to economics from the left-liberal perspective. The left's bias against the free market and its obsession with equality has always prevented it from developing a theoretical understanding of market processes. A number of left-wing "economists" (Veblen is a prime example) have rejected theory altogether, replacing it with descriptive studies of capitalists and capitalist institutions. These studies are biased in the sense that they only report negative facts. But facts are facts, whether negative or positive; and advocates of the free market, no less than its enemies, need to be aware of the seamy underbelly of historical capitalism.
Gustavus Myers' History of the Great American Fortunes is perhaps the classic work of left-wing economic history. John Chamberlain once described Myers' book as "a masterpiece of digging in the archives." H. L. Mencken, though he regretted Myers "socialist fustian," nevertheless considered it "one of the best books ever done in America." Certainly Myers has collected a great many facts which show capitalism in a bad light. Critics of Myer have contended that many of his facts are based on anecdotes and "uncritically handled court records" (Hacker, Capitalism and the Historians). But to date, few of Myers facts have ever been directly challenged. This is not to say that Myers can in all respects be trusted. He is, to speak plainly, an extremely biased writer, and readers should be aware of this before tackling his great work. He presents only the negative side of the free enterprise system; the good side he sedulously ignores. (A good history of capitalism from the "positive" side of the debate is presented in Burton Folsom's excellent The Myth of the Robber Barrons) One of the best contemporary left-wing books on capitalism is Doug Henwood's Wall Street. Although Henwood is a socialist liberal of the most uncompromising sort, in Wall Street he is on his very best behavior. He does a commendable job of avoiding moral indignation and rhetorical exaggeration and tries very hard to stick close to the facts. Irresponsible financial speculation, he argues, has created a number of serious institutional problems on Wall Street, which he exposes with great alacrity. He points out that most of the money "invested" in the Stock Market does not actually go to fund capital investment, but is merely "wasted" in speculation. Henwood also has very little to say of stock brokers, whom he regards as ignoramuses whose expertise is largely fictitious and delusional. "Analysts rarely say anything unkind about companies they cover," notes Henwood. "Firms don't want to alienate potential investment banking clients, and the analysts don't want to alienate their sources in management, for fear they'll stop taking their phone calls." Henwood's take on contemporary finance capitalism presents an important contrarian view which apologists need to give a fair hearing.
Economics - Socialism. The great weakness of left-wing economists has always been the positive part of their program. Their sentimental humanitarianism and their horror of the free market cause them to embrace policies detrimental to freedom and human welfare. A very important book in this respect is Friedrich Hayek's The Road to Serfdom. Hayek demonstrates how certain types of government intervention and social planning are incompatible with democracy and individual freedom. Especially insightful is his chapter entitled "Why the worst get on top," where Hayek argues that socialism, by its very nature, creates institutional incentives which make it very hard for good people to advance to positions of power. "That socialism can be put into practice only by methods which most socialists disapprove is, of course, a lesson learned by many social reformers of the past," notes Hayek. If socialism is to succeed, economic and political power must be concentrated into the hands of a tiny elite. But the probability that people in power would be individuals who disliked power and only wanted to serve the community would be, argues Hayek (quoting Frank Knight) on "level with the probability that an extremely tender-hearted person would get the job of whipping master in a slave plantation."
An indispensable critique of socialistic political and economic policies. Ludwig von Mises' classic Socialism is perhaps the best work every written on the subject from an economic point of view. Mises argued that socialism could never work because, under such system, there would be no prices in the factors of production. But without these prices, it would be virtually impossible to efficiently coordinate capital allocation in an industrial economy. Thus any attempt to institute socialism must lead to gross inefficiency and mass poverty for all but the socialist elite. Mises presents his critique of socialism in his usual forceful and uncompromising manner. In addition to his discussion of economic calculation, he also critiques the morality of socialism, the idea of class war, the "materialist conception of history," and the alleged inevitably of socialism. He concludes the main part of his book with a devastating analysis of the destructive tendencies of socialism. "The socialist idea is nothing but a grandiose rationalization of petty resentments," he argues. "It is not the pioneer of a better and finer world, but the spoiler of what thousands of years of civilization have created. It does not build; it destroys. For destruction is the essence of it."
An excellent companion volume to Mises' Socialism is David Ramsey Steele's From Marx to Mises. Steele provides an even more lucid account of Mises' calculation argument than Mises himself. He also places the whole debate about the feasibility of socialism within the historical context in which it occurred. Various efforts by socialist economists to debunked Mises are analyzed and refuted. Steele shows that, to date, no economist, whether socialist or otherwise, has presented a workable alternative to free market capitalism.
Economics - Advanced. Economics, like most fields of study, proceeds by the method of successive approximations. The student of economics begins with very simple theories and gradually advances to more complex ones. Thus the student gradually develops a more sophisticated (and hopefully, more realistic) conception of economic reality. Once the reader has grasped the basic principles of economics and are eager to proceed to the next level, there is no better place to resume than with Ludwig von Mises' Human Action. Using as his starting point the need for men to find food, shelter and clothing in a world where economic goods are scarce, Mises builds an imposing theory of the pure logic of choice upon which he bases his subsequent economic reasoning. Nearly every aspect of economic theory is scrutinized by Mises' penetrating logic. While critics of Mises' apriorism might entertain doubts concerning whether economic knowledge can rest entirely on logical reasoning, there is little doubt that any subsequent theoretical development of economics must take Human Action as its starting point.
The disadvantages of attempting to determine matters of fact based solely on logical reasonings are no where discussed more intelligently than in Frank H. Knight's masterful Risk, Uncertainty, and Profit. Knight, like Mises, was a stalwart defender of theoretical (that is, deductive) economics. But unlike Mises, Knight did not believe that theoretical economics can lead to precise results. The application of the analytic method of the economist must always be "incomplete," he argued. Theoretical economics thus can only deal with "tendencies," that is, "with what 'would' happen under simplified conditions never realized, but always more or less closely approached in practice." Knight also warns of the dangers of rationalism and the necessity of constantly checking one's results against the facts. "When the number of factors taken into account in deduction becomes large, the process rapidly becomes unmanageable and errors creep in.... It is better to stop dealing with elements separately before they get too numerous and deal with the final stages of the approximation by applying corrections empirically determined."
Armed with this method, Knight proceeds to tackle several important problems in economics, especially those dealing with the theoretical construct of "perfect competition." Knight had a keen sense of human nature and how human beings behave in the real world of fact. He knew that most economic theories assumed that men were far more rational than they really are. Businesses, he argued, did not merely seek to meet the needs of the consumers in some narrow, rationalistic way; no, they sought to create new needs through innovation, advertising, and even a sort of manipulative hypnotism. Knight believed that the creation of new needs formed the very essence of economic progress. Knight's most important theoretical contribution, however, consists in his analysis of the difference between risk and uncertainty. Risk, Knight argues, is a measurable probability that something could happen, like the probability that an individual will be struck by lightening or hit by a car. Uncertainty is a kind of immeasurable risk (e.g., the odds that a given stock will rise or fall in the next few hours). Knight's analysis is crucial to understanding a great number of economic phenomena. It explains, for instance, why the rise of derivative securities in financial markets is so dangerous. Derivatives attempt to insure uncertainty, which is immeasurable, as if it were risk, which is measurable. It is greatly to be regretted that Risk, Uncertainty, and Profit is no longer in print. But if you can't get it through the www.Amazon.com used book service (or through www.bookfinder.com), a complete online edition is available at www.econlib.org.
Mainstream economic thought has still not recovered from what Lord Keynes did to it in the twenties and thirties. What is taught today in American universities under the heading of "macroeconomics" is nothing more than a compendium of Keynesian fallacies. Those who have been victimized by this sort of economic mis-education should give Henry Hazlitt's The Failure of the "New Economics" a close reading. Hazlitt subjects Keynes' extremely influential economic treatise The General Theory of Employment, Interest, and Money to a rigorous chapter by chapter, theorem-by-theorem analysis, demolishing, in his analytical wake, every leading Keynesian tenet, from Keynes' attempted refutation of Say's law to his disparagement of the gold standard and free enterprise. Essential reading for every student of economics.
Economics - Business Cycle. As everybody knows, economic growth is cyclical. The economy expands for a while, and then it contracts. Since these fluctuations can exercise a very real influence on our lives, you would think that there would be more interest in understanding what causes them. But most people give the matter very little thought; and many accept, uncritically, the economic fallacies of demagogues and academic economists.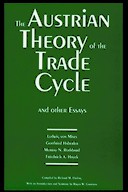 The Austrians have probably done the best work in this field. Their views are succinctly stated in an excellent anthology of essays entitled The Austrian Theory of the Trade Cycle and other Essays. More ambitious readers may want to attempt Ludwig von Mises' Theory of Money and Credit, the classic Austrian text on business cycles. Mises' book is one of the great classics of economic thought. When it was published in 1912, monetary and trade cycle theory were in a very rudimentary state. Theory of Money and Credit corrected this by integrating monetary with general economic theory and providing an entirely new theory of the business cycle -- a theory which would later receive confirmation with the great depression of the 1930s. It is very unfortunate that most academic economists have seen fit to ignore Mises' great contribution to economics. Familiarity with Theory of Money and Credit might have saved the economics profession a great deal of embarrassment. The Austrian theory of the trade cycle, though critical to an understanding of business cycles, can hardly be regarded as the last word on the subject. The Austrians' free market bias caused them to assume that financial markets, provided they were left free of government sponsored monetary manipulation, would always allocate capital in the most efficient manner possible. There is some question as to whether this is really true. Joseph Schumpeter, in his The Theory of Economic Development, argued that economic progress depends on diverting capital from old businesses using established methods of production to businesses using new, innovative methods. Schumpeter's special insight comes in trying to explain how the transfer of capital from the old to the new takes place. Schumpeter argued that it takes place through credit expansion. Through the fractional reserve system, banks are able to create credit, quite literally out of thin air. This money is lent to businesses specializing in new methods of production, who then bid up the price of production goods and consumer goods in their effort to pay for the production goods they require. Thus a form of inflationary spoliation takes place at the expense of established businesses and consumers. Schumpeter's contribution constitutes an important corrective supplement to the work of Mises and other Austrians on the business cycle.

Economics - Sociological. Many economists commit the fatal error of regarding the market as a mere economic phenomenon, explicable by economic laws alone. But this view is erroneous. The market both influences and is influenced by political and sociological factors. Any account of the market which ignores these non-economic factors must be regarded as incomplete. Few economists have understood this better than Joseph Schumpeter. In his book Capitalism, Socialism, and Democracy, Schumpeter combines economic analysis with political and sociological analysis to create a well rounded picture of capitalism and the civilization it has produced. This civilization, warned Schumpeter, is being undermined by its own success. Capitalist rationality is eroding the moral and political foundations of capitalist society. Schumpeter predicted that a new era of socialism would gradually emerge out of the decomposition of the capitalist order. But "there is little reason to believe that this socialism will mean the advent of the civilization of which orthodox socialists dream," cautioned Schumpeter. "It is much more likely to present fascist features. That would be a strange answer to Marx's prayer. But history sometimes indulges in jokes of questionable taste."
Wilhelm Roepke is another economist who, like Schumpeter, understands that the free market does not exist in vacuo. In his Humane Economy, Roepke argues that the market economy depends on sociological, moral, and cultural factors for its maintenance and survival. The "sphere of the market, of competition, of the system where supply and demand move prices and thereby govern production, may be regarded and defended only as part of a wider general order encompassing ethics, law, the natural conditions of life and happiness, the state, politics, and power," writes Roepke. "Individuals who compete on the market and there pursue their own advantage stand all the more in need of the social and moral bonds of community, without which competition degenerates most grievously."
Roepke's defense of the market rests firmly on time-tested conservative principles. He dissects the corrosive effects of mass society and social rationalism and warns against those two "slowly spreading cancers of our Western economy," "the irresistible advance of the welfare state and the erosion of the value of money, which is called creeping inflation." There are few books which detail the crisis of modern civilization in the West better than this one; and none which offer a more convincing vision of a genuinely "humane" economy.
Another glaring error of modern economics is its over-reliance on the concept of homo economicus, which economists have used to abstract human nature out of their discipline altogether. The great American economist Frank H. Knight was an determined critic of this sort of gratuitous reductivism. No economist had a keener sense of the basic irrationality of human beings than Knight, who described the rationalist view of human nature as "highly artificial and unreal."
"That 'man is a rational animal' is one those interesting statements which do not have to be proved, since the subject admits it," Knight noted with his usual dead-panned irony. "In fact, he says so himself; and the objective value of the statement is to be appraised in the light of that fact.... For a general characterization, he is perhaps less distinctively homo sapiens, the knower, than he is homo mendax, the liar, deceiver, hypocrite, actor, pretender, practicer of make-believe. Other animals have effective if not explicitly conscious knowledge, and an interest in truth; man alone prefers fiction to fact, with respect to the world and especially himself. He covers his body with clothes and that is trivial compared to the concealment and misrepresentation of his intellectual, emotional and moral nature in language and expressive behavior."
Knight's insights into human nature, society, philosophy, ethics and economics are presented in a collection of essays entitled Freedom and Reform: Essays in Economics and Social Philosophy. Knight covers a wide range of topics in the book, from socialism and democracy to economic reform, religion, and the rights of man. In the concluding essay of the book, "The Sickness of Liberal Society," Knight summarizes what he regards as the strengths and weaknesses of classical liberalism, and concludes with a skeptical endorsement of freedom. Although Knight regarded himself as an old-fashioned liberal, he never shrunk from criticizing liberal institutions, including market capitalism. In the Ethics of Competition, Knight contributes a series of essays criticizing not merely pure competition, but economic methodology, the problem of value, the concept of social cost, and nationalism. Knight's essays are packed with sharp insights that challenge the stale reductivism that afflicts the modern social sciences.
Article by Greg Nyquist